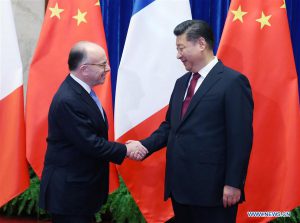 French Prime Minister Bernard Cazeneuve, accompanied by Marisol Touraine, Minister of Health, Jean-Marie Le Guen, Secretary of State for "La Francophonie" and Mathias Fekl, Secretary of State for foreign trade, paid a three-day official visit to China ( 21-23 February 2017) and met with President Xi Jinping and Premier Li Keqian. The heads of state and government insisted on the benefits of globalization and discussed a possible Sino-French rapprochement in the nuclear sector.
Bernard Cazeneuve also went to Wuhan, Hubei, where he attended the arrival of a freight train coming from Lyon. This line is one of the results of the development of the "One Belt One Road" program. Prime Minister Bernard Cazeneuve expressed France's interest in the new Silk Road and declared that France would examine the conditions under which Paris could join this intercontinental project.
The development of OBOR would help to intensify exchanges between France and China and create new opportunities for Chinese and European companies.
The visit of the French prime minister as well as that of the Italian president testifies to the importance that the "One Belt One Road" strategy will certainly play in the Sino-European relations.
Share the post "Visit of French Prime Minister Bernard Cazeneuve to China"
Visit of French Prime Minister Bernard Cazeneuve to China