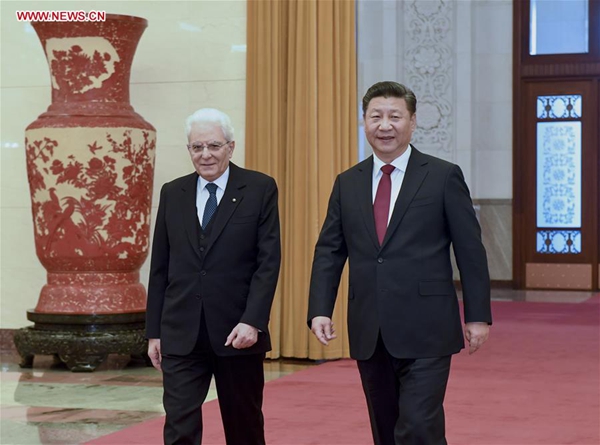 Sergio Mattarella, President of the Italian Republic met with his Chinese counterpart Xi Jinping during his state visit to Beijing from 21 to 26 February 2017.
The Italian president was accompanied by a delegation of entrepreneurs. The Italian Head of State presented the strengths of his country and encouraged Chinese companies to invest in Italy. More than  ten bilateral agreements have been signed by Italy and China.
During his visit, Mattarella participated in the Italy-China Business Forum, whose two main themes were "Made in China 2025" and "One Belt One Road".
Mattarella went to Xi'an, one of the starting points of the ancient Silk Road.
The Italian president insisted on Italy's willingness to take part in the new Silk Road project and to build the infrastructure necessary for the realization of the OBOR. Mattarella thus emphasized the possible role that the Italian ports of Genoa and Trieste could play in the development of the new maritime Silk route.
Furthermore, Mattarella stressed the importance of culture in Sino-Italian relations and supported Beijing's proposal to nominate the maritime Silk route on UNESCO's list of World Heritage sites.
Finally, President Mattarella and Xi Jinping reaffirmed their willingness to work for a more open world and for more intensive exchanges between Europe and China.
Share the post "State Visit of the Italian President to China"
State Visit of the Italian President to China