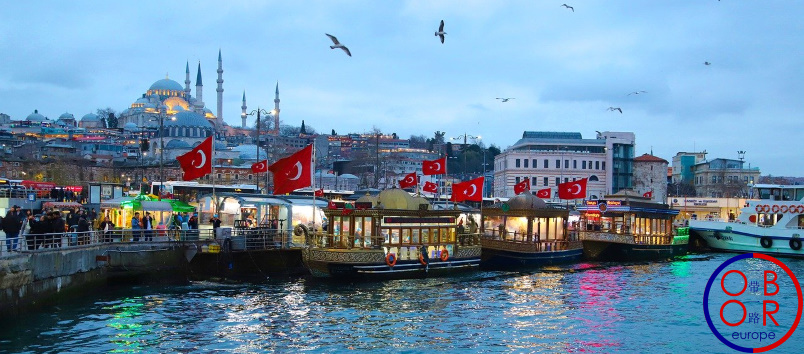 On February 13 and 14, 2020, Turkish President Recep Tayyip Erdogan conducted a state visit to Pakistan during which he met with President Arif Alvi and Prime Minister Imran Khan. This is his fourth presidential visit to Pakistan.
During this visit, President Erdogan declared that his country was ready to participate in the development of the China Pakistan Economic Corridor.
More trade between Turkey and Pakistan
During his visit, President Erdogan expressed concern over the weakness of trade between the two countries and called for further exchanges, which ought to increase from only $800 million to $5 billion in the coming years.
Both countries can be considered as emerging economies and have much to gain by sharing their experiences.
Turkey's participation in the CPEC
Ankara strongly supports the BRI. Located between the Middle East and Europe, Turkey has much to gain from the development of the new Silk Roads. The Chinese program will confirm the role of Turkey, through its infrastructure, such as the new Istanbul airport, as the main hub between East and West. Turkey therefore wishes to increase its presence in the CPEC, one of BRI's main corridor, and thus strengthen connectivity with new developing markets.
For President Ergodan, however, there remain two obstacles to Turkey's participation in the CPEC. The first is that Turkish companies do not know enough about CPEC and its opportunities. President Erdogan therefore undertook to better explain the CECP to Turkish companies.
Second, Turkish companies expect to enjoy the same benefits as Chinese or Saudi investors that are active in the CPEC. Prime Minister Imran Khan has therefore pledged to facilitate the development of Turkish businesses in Pakistan.
Possible areas of cooperation
As President Erdogan pointed out, Turkish companies are known for their expertise in the construction sector. Consequently, they could intervene in infrastructure projects linked to the CPEC.
However, cooperation between Turkey and Pakistan should not be limited to construction alone. The Prime Minister of Pakistan highlighted his country's efforts to become a major tourist destination, and invited Turkey to share its experience in this area.
Other sectors include, among others, health and finance.
Geopolitical aspects
Geopolitical issues should not be overlooked in Turkey's choice to participate in the CPEC. Both countries face terrorist threats and are therefore committed to cooperation in defense.
The CPEC could also bring Turkey closer to other regional powers, notably the Gulf States. Oman, the UAE and especially Saudi Arabia are active in CPEC projects in Pakistan. Turkey's participation will require greater cooperation between Turkey and Saudi Arabia, and therefore could contribute to stability in the Greater Middle East.
Commercial interests
However, Turkey is not joining the CPEC only for geopolitical reasons. Turkish interest in this corridor demonstrates the economic and commercial opportunities that CPEC presents. By investing in the new special economic zones along the CPEC, Turkish companies will gain access to a market of almost 200 million inhabitants.
For Pakistan and China, it is important to give more visibility to the CPEC and attract foreign investors. It is time now for European companies to get on the CPEC so as not to be excluded from this connectivity project!
Turkey ready to join the CPEC