by Dr. Sebastien Goulard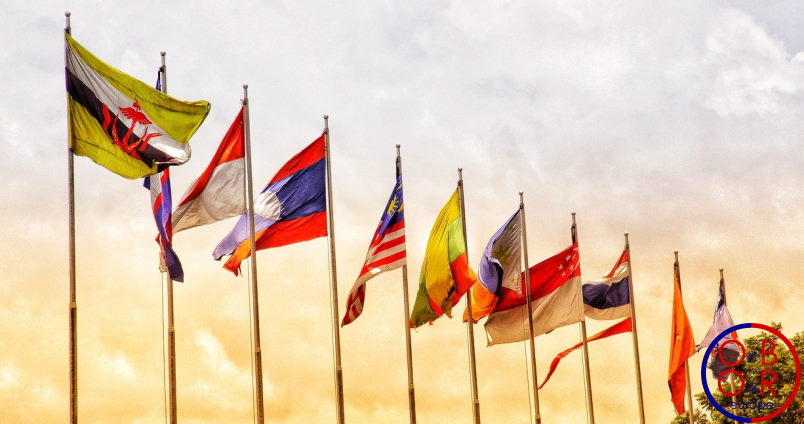 Right after his African tour, in early January, Ministry of Foreign Affairs and State Councilor Wang Yi flew to Southeast Asia to strengthen ties between China and four ASEAN countries. Some of these countries are facing difficult times because of the Covid19 crisis and China is offering some assistance.
These countries have also implemented some development strategies that can be complemented with the Belt and Road Initiative.
Wang Yi's ASEAN tour
In Myanmar, Wang Yi first met with President President U Win Myint, Army Chief Min Aung Hlaing and Sate Councelor Aug San Suu Kyi. Chinese and Burman leaders agreed to extend the China-Myanmar Year of Culture and Tourism to 2021.
Wang Yi then traveled to Indonesia and had talks with Indonesian President Joko Widodo Foreign Minister Retno Marsudi and Coordinator for Cooperation with China and Coordinating Minister Luhut Binsar Pandjaitan.
A third official visit was organized in Brunei, where Wang Yi met with Sultan Haji Hassanal Bolkiah and Haji Erywan, Brunei's Second Minister of Foreign Affairs and Haji Mohd Amin Liew, Minister at the Prime Minister's Office and Second Minister of Finance and Economy.
His last stop was in Manila, Philippines, where he met with President Duterte and Foreign Secretary Teodoro Locsin Jr. Together with Former Philippine President Gloria Macapagal Arroyo, Wang Yi inaugurated the Manila Forum for China-Philippines Relations that aims at boosting dialogue between the two countries.
China-ASEAN relations
In Brunei, Wang Yi also met with the current ASEAN Secretary-General Lim Jock Hoi. 2021 marks the the 30th anniversary of ASEAN-China Dialogue Relations. In 2020, ASEAN has become China's largest trade partner, overtaking the European Union and the signing by ASEAN nations and China (and other Asian nations) of the Regional Comprehensive Economic Partnership will further deepen relations between the two regions.
Since July 2020, China and ASEAN nations have been cooperated on blue economy in order to develop marine technological innovation, protect marine environment and maintain stability in the South China sea.
Covid-19 and vaccination
China-ASEAN health cooperation was the main focus of Wang Yi's journey to Southeast Asia. Whereas China has succeeded in circumscribing the pandemic, many ASEAN countries are still struggling with Covid19 ; Beijing decided to continue to offer assistance to these countries. While in Spring, many countries around the world were facing shortages of surgical masks and gowns, this time, Southeast Asia nations would like to have access to vaccines.
Wang Yi promised to offer 300,000 doses of Covid19 vaccines to Myanmar, and half a million doses to Philippines.
In December 2020, Indonesia received 3 million doses and has placed also orders for 140 million doses from China's Sinovac vaccine that has been tested in the country since August. Jakarta and Beijing agreed on producing vaccines in Indonesia.
During his tour, Wang Yi confirmed China's willingness to increase cooperation on vaccination with the four visited countries and develop a Health Silk Road.
Economic recovery
Asides from pandemic, Chinese and Southeast Asian leaders agreed to increase cooperation to rapidly recover from the economic crisis created by Covid19. Many infrastructure projects have been delayed or even halted because of the Covid19 disruption. While China's economy has quickly recovered from the crisis, most ASEAN countries will face a major economic slowdown, or even recession in 2021. Therefore, it was extremely important for China to show that cooperation would be increased during these difficult times. In each visited country, State Councilor Wang Yi discussed with local leaders about initiatives and projects that could boost trade and investment.
A major topic regards tourism of course, as these countries have become more and more dependent on Chinese visitors, but the crisis has made traveling more difficult. Still, in Indonesia, Wang Yi and  and Coordinating Minister Luhut Binsar Pandjaitan visited Lake Toba in North Sumatra that could become a future destination for Chinese tourists.
Belt and Road Initiative and development strategies in the ASEAN
During his tour in Southeast Asia, Minister of Foreign Affairs and State Councelor Wang Yi also offered to boost cooperation with ASEAN countries within the framework of the Belt and Road Initiative. Most ASEAN nations have joined the Chinese initiative, and many host BRI projects.   
These countries have launched their own development strategies, that may respond to the BRI.
Myanmar is a major member of the Belt and Road Initiative, and is home to the China Myanmar Economic Corridor that is to connect Kunming, China to the Indian Ocean through Kyaukphyu with new highways and railways. New Yangon City project is another. Last year, during President Xi Jinping's visit to Myanmar, China and Myanmar agreed to jointly develop the China-Myanmar Community with a shared future.
In 2014, Indonesian President Joko Widodo proposed the Global Maritime Fulcrum (GMF) strategy that aimed at improving inter-islands connectivity and developing marine economy.
Brunei has also formulated its own development strategy to reduce its dependence to oil and diversify its economy. With the "Wawasan Brunei 2035" programme, Brunei may attract more investment form China.
Under President Duterte, a national long term vision for Philippines, "AmBisyon Natin 2040", has been launched. Urban development and connectivity are some elements of this strategy.
In the following weeks, OBOReurope will introduce these national strategies and shows how the Belt and Road Initiative can provide support to Asian nations in achieving their development goals.
Share the post "China and national development strategies in ASEAN countries"
China and national development strategies in ASEAN countries