by Dr. Sebastien Goulard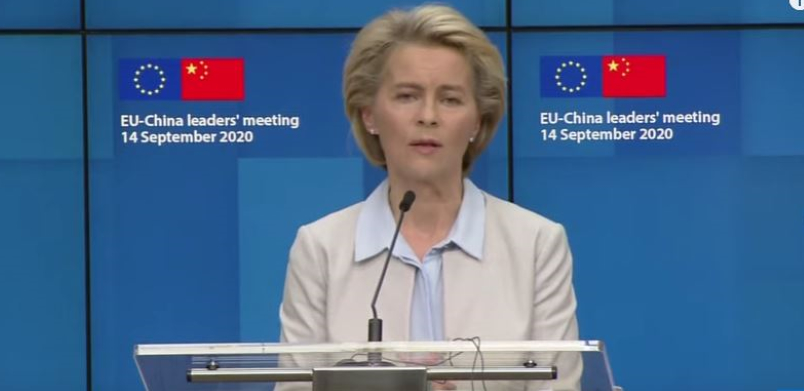 On 14 September, was held a virtual summit between European Union and Chinese top leaders. President of the European Council, Charles Michel, President of the European Commission, Ursula von der Leyen, and the German Chancellor, Angela Merkel, the current president of the Council conducted a videoconference with Chinese President Xi Jinping.
This event was first supposed to take place in Leipzig, Germany but because of the Covid19 pandemic, this meeting went online.
In early September, China's top diplomats: China Foreign Minister Wang Yi and the head of China Communist Party's foreign affairs office Yang Jiechi visited several European countries to prepare this meeting.
Although no major decision was taken at this summit, it shows EU and China's dedication to this partnership.
The EU-China Comprehensive Agreement on Investment
The focus of this discussion regarded negotiations for a Comprehensive Investment Agreement between the EU and China so that both markets were more opened to Chinese and European companies. The first negotiation round started in 2014 ; in spite of the Covid19 crisis, parties are committed to finding an agreement by the end of the year. Although both parties are willing to speedup negotiations, they are also concerned about reciprocity: Europe and China must be widely opened to each other. For the EU, market access to European companies in China must be improved in financial services, hi-tech and agribusiness (as the EU-China Agreement on Geographical Indications has just been signed). For China, the European market still need to b be less wary about Chinese investment.
Once this major agreement is signed, China and the EU will need to work on the Strategic Agenda for Cooperation 2025 to sustain exchanges and multilateralism, as the 2020 Agenda is to expire soon. The two regions must define new objectives to increase trade, investment, and personal relations between Europe and China.
Green economy, Covid19 and governance
European and Chinese leaders also discussed about other major topics including environment, Covid19 pandemic and governance.
Environment and Climate Change
The EU and China have reiterated their commitment to pursuing the targets under the Paris climate deal. In spite of Covid19-caused economic slowdown, Europe and China will continue to promote sustainability and develop clean energies. China will continue to reduce carbon emission as announced by Liu Youbin, spokesman for the Ministry of Ecology and Environment last June.
Next year, in 2021, will be held in China (in Kunming, Yunnan) the Convention of Biological Diversity meeting, originally planned for 2020; and Beijing plans to make this event very fruitful.
Covid19 pandemics
Both regions also agreed to develop a global response to the Covid19 pandemic by supporting WHO actions and favour cooperation (for possible treatments and vaccines). Chinese and European leaders understand that they must work together against global health threats.
Governance
EU leaders expressed their concern about the situation in Hong Kong and tensions in South China Sea, and encouraged China to develop peaceful solutions.
The EU-China leaders meeting and the Belt and Road Initiative
Although the Belt and Road Initiative was not namely mentioned by European and Chinse leaders at this conference, several points are related to the development of the BRI.
First, EU and China are eager to cooperating on digital projects. President Xi Jinping stressed that interconnectivity between both markets must be a priority to develop. European and Chinese digital companies need to have greater access to both market in order to down digital frontiers.
EU leaders also invited China to develop clean energy projects in foreign countries, and no longer build coal-fired power plants abroad. Some low-income countries in Asia and Africa are still building non-efficient energy plants through Chinese loans. However, BRI projects tend to be more environment friendly as clean energy projects are getting cheaper.
When the pandemic is over, EU and China, two regions that support multilateralism, will have to develop together recovery measure to be implemented in low-income countries. The EU invited China to consider possible debt suspension for the hardest hit countries. Beijing has already announced to participate in the G20's debt service suspension initiative.
The EU-China leaders summit is an important event for EU-China relations and shows the importance of this relation for both countries. Good relations between Europe and China make the world safer and more stable.
EU-China leaders meeting, September 14, 2020