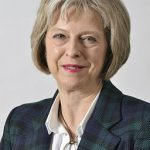 Chinese President Xi Jinping invited Theresa May, British Prime Minister, to the One Belt One Road initiative summit to be held in Beijing in early May.
Some twenty heads of state, including the presidents of Russia, Philippines and the prime minister of Sri Lanka, are expected to attend this event. This will be an opportunity for China and its partners to discuss the development of the OBOR and coordinate their actions to revive the Silk Roads.
Share the post "Theresa May to attend OBOR summit in May"
Theresa May to attend OBOR summit in May