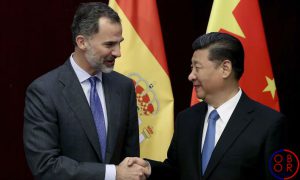 On June 9, 2017, King of Spain Felipe VI met with Chinese President Xi Jinping in Astana, the capital of Kazakhstan. The King of Spain recalled his country's interest in the Belt and Road initiative. The Chinese president said that Spain was welcome in the OBOR project and encouraged cooperation between the two countries in many sectors such as aerospace, finance, telecommunications or agriculture.
President Xi Jinping also invited Chinese and Spanish companies to use rail transport for trade between China and Europe.
Finally, the two heads of state encouraged decentralized cooperation initiatives between China and Spain to increase cultural and educational exchanges.
Sino-Spanish meeting in Astana