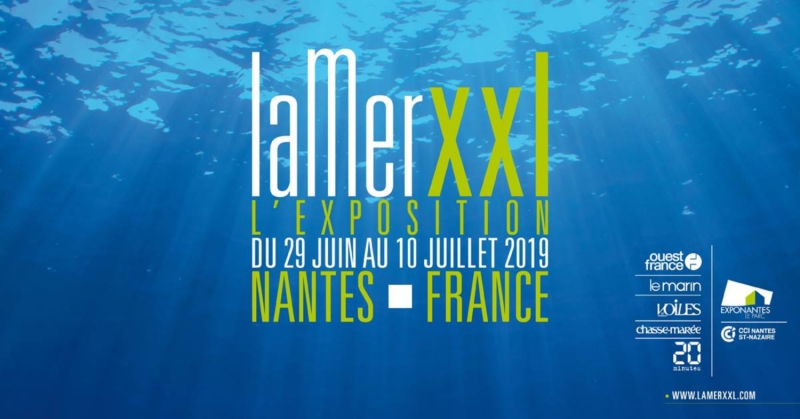 For the "XXL  sea" event that will be held in Nantes from 29 June to 10 July, the Schiller Institute will organize a conference on the blue economy and Franco-Chinese cooperation within the framework of the "Belt and Road Initiative" on July 2 from 2 to 7 pm.
This conference is co-organized by Mrs. Lettrée, President of the Silk Road Business School and will have as guests of honor Ms. GAO Yuanyuan, Minister Counselor, Economic and Commercial Affairs, Chinese Embassy in France and Mr. SUN Yuming, Minister Counselor, Scientific and Technical Service, Embassy of China in France.
This conference will address both the history of the ancient Silk Roads, as well as the current project supported by China, and will discuss the future of the new Silk Roads.
Conference Program
Past
"Maritime Silk Roads, A History of Thousand and One Cooperation" by Karel VEREYCKEN, Journalist, Schiller Institute;
"Admiral Zheng He's Diplomatic Missions of Admiral in the Ming Dynasty" by Antoine CID, research fellow, former lecturer at Paris VII University, associate professor at Amolingua University;
"From the Sea of ​​China to the Arabian Sea: Renewal" by Henri TSIANG, historian, author, emeritus research fellow at Institut Pasteur.
Present
"The New Silk Roads: demystifying the debt trap and other fantasies» by  Sébastien GOULARD, consultant, Cooperans and coordinator of OBOReurope;
 "Africa-China-France: for a fair mutual development" by Sébastien PERIMONY, Africa Desk, Schiller Institute;
  "The Caribbean and the New Maritime Silk Road of the 21st Century" by Jean-Rémy VILLAGEOIS, Chairman of the Management Board of the Grand Port Maritime (GPM) of Martinique;
  "The history of Franco-Chinese cooperation" by Pr. Mohamed JEBBAR, professor and research fellow, University of Brest, Director of the Laboratory of Microbiology of Extreme Environments (LM2E) and co-director of the Franco-Chinese International Associated Laboratory (LIA) of deep-sea microbiology, (MICROBSEA);
 "Earth, innovation, technologies, art, nature and health, a whole program" by Anne LETTREE, CSO of Silk Road Business School (Paris, Xi'an), founding president of Jardin des TITANS.
Future
"Revitalizing our ports thanks to the renaissance of territorial development" by Michel CANTAL-DUPART, architect, urban planner, professor at CNAM;
"Unlocking the port of Le Havre with a fast rail line cnnecting Paris to Rouen-Le Havre in 17 minutes" by Emeuric GLEIZES, entrepreneur, president and founder of Spacetrain (transport on air cushion);
"Putting French industry in order of battle to meet the challenges of the blue economy" by Bernard PLANCHAIS, consultant, founder of the Sea cluster in the PACA region, former director delegate of the DCNS (Naval Group).
The aim of this conference is to give to the audience some elements to better understand the new Silk Roads projet and to highlight the possible areas of cooperation between France and China.
The conference is free, but registration is mandatory.
Share the post ""XXL Sea" Belt and Road conference, Nantes, France"
"XXL Sea" Belt and Road conference, Nantes, France