Professor Michael Glantz (University of Colorado, Boulder) is the lead author of a book entitled "One Belt One Road: China's Long March Toward 2049," published in mid-April 2019.
Prof. Glantz contacted us months ago when preparing his book, and we had interesting exchanges about President Xi's Belt and Road Initiative. Right after the publication of "One Belt One Road: China's Long March Toward 2049," Prof. Glantz agreed to give an interview to OBOReurope, so that our audience could learn more about his book designed to raise public awareness about China's infrastructure projects around the globe.
Introduction to Professor Michael Glantz and his interest in the BRI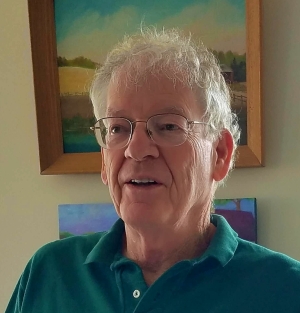 Prof. Glantz is the director of the Consortium for Capacity Building in the University of Colorado, Boulder where he conducts research on climate, water and weather and how they impact society. His research interests are now mainly focus on climate-related disaster risk reduction and early warning systems. He has written numerous articles and books on droughts and floods and desertification in various countries around the globe.
In light of his multidisciplinary experiences, he has been invited to participate in various research consortia, most recently as an Advisory Committee member of the IRG (international Integrated Risk Governance Program), headquartered at Beijing Normal University. He has also lectured at several universities in China.
Glantz first learned about OBOR in Spring of 2016. At the time, the Chinese initiative was not as much covered by Western mainstream media as it is today. As media coverage of new OBOR/BRI projects were on the rise, he collected and categorized media accounts on China's increasing number of new infrastructure activities. To see the bigger picture, however, about various aspects of BRI's rapidly expanding development oriented "ecosystem," he mapped out the expanding geographic and functional scopes of BRI-related projects on land, sea, air and in space. Talk of silk belts and roads were attracting the interest of industrialized as well as developing economies but for different reasons. OBOR/BRI had become a successful brand for China's global infrastructure development theme and "dream."Glantz's first paper about Silk Roads was published in March 2017 in a Russian journal: "One Belt One Road: What a difference a Brand makes."
With two contributors (Robert Ross and Gavin Dougherty),Glantz set out to capture the enthusiasm of the public for what may prove to be one of the most forward-looking development projects of the 21st century. China's development model is attractive to developing countries, because China was itself a developing country. Although the US and the EU have been large international development aid donors to the developing world, their model to provide financial assistance to developing countries appeared less attractive when compared with the Chinese model. China has become a global economic and political superpower in less than 40 years: developing countries were keen to explore the China-funded development initiative with the hope of replicating its success in a matter of a few decades.
The authors saw each silk road and belt as a "campaign" to energize and support different socio-economic sectors in China to engage in the country's effort to put economic development in developing countries on a fast track, using its model as an alternative to the decades-old model of Western development institutions. The authors also suggested that the emerging economic competition in different regions were similar to "Great Games," that is, a worldwide competition for regional "spheres of influence." They belatedly drew attention and concern and even ire of the US specifically to the space and the polar silk roads.
Glantz confessed that a major challenge was in keeping up to date each week as new projects were agreed to and existing ones went through twists, turns and sometimes reversals. Glantz characterized his OBOR/BRI book as providing a background setting of an emerging BRI 3.0. OBOR/BRI 1.0 represents the initial roll-out and early expansion of its bilateral infrastructure agreements in Asia, Africa and Europe. BRI 2.0, he suggests, began with exposure of Sri Lanka's debt repayment problem over its China-built Hambantota deep-water port. When the government could not keep up its loan payments, the Chinese took a major ownership share and a captured a 99-year lease to operate the port. This incident led to a potential"debt-trap" label for China's loan arrangements.
US and China's BRI
Glantz worries that few Americans, including their political leaders are not so aware of current BRI affairs. The authors hope that their book creates public awareness in the US and elsewhere about the importance of BRI.The book offers to-the-point chapters on many regions including Southeastern Europe, Central, South and Southeast Asia, Central and South America, the Arctic and Space.
Glantz believes that BRI's recent geographic expansion of success is due in part to President Trump's isolationist, bilateral policies of his "America First" campaign slogan. Trump's poor treatment of his North American neighbors and NATO Allies has prompted governments in the developing world to seriously consider China'sBelt and Road Initiative as a viable alternative to Western institutional approaches to development.
The US has recently advanced its own new program to compete with the BRI, but it cannot compare with Beijing's funding level for infrastructure. China plans to invest some trillion dollars in the BRI,while the US proposed tens of billions of dollars. Glantz says that the US reaction to BRI is"a day late and a dollar short."
US and international agencies' assistance is conditioned by transparency rules and governance principles that take time to implement. The use of resources is also tightly scrutinized to reduce corruption, whereas China's financial assistance is more quickly available enabling the rapid construction of projects. It is important to note that in a BRI 3.0, China is professing to adopt transparency rules. The US is not likely to join China's BRI, says Glantz, because of itsintensifying superpower rivalry with China.
Branding the BRI
Glantz has been very interested in the branding of OBOR (later called the BRI). In his book, he uses both OBOR and BRI acronyms calling it OBOR/BRI, but still prefers the former, as OBOR was a branding success. One of the chapters discusses a possible origin of the OBOR acronym, the 2008 Beijing Olympics and its successful "One World One Dream" theme.
In the book's section titled "Bilateral tendencies vs. multilateralism about the emergence of the "debt trap" concept associated with a BRI project. He explained that China has failed to adopt an offense position on this issue to counter the "debt trap " branding of BRI loan arrangements. Chinese authorities have mostly responded to foreign criticisms about its loan practices by mentioning what BRI is not (for example: "China says projects are not to blame for majority of Africa debt;" "The BRI is not a plot;" "BRI is never a political tool.").
Glantz suggests that Chinese authorities consider a new branding that would present the investment and loans offered by China and Chinese banks as opportunities rather than responding passively that they are not threats to host countries. To its credit China acknowledges that it is on a learning curve. President Xi has affirmed that China is recalibrating BRI loan practices, e.g. BRI 3.0 addressing BRI practices that have been questioned by BRI partners. Glantz believes that the BRI is already a success,despite critiques about it. Connectivity, through its infrastructure projects and trade, has increased among China's and its BRI partners.
Long term objectives
Professor Glantz acknowledges China's wisdom to focus on the infrastructure needs and wants of developing economies. Unlike many nations, China has a long-term perspective that is guided by its history. The year 2049 is symbolically an important target year for BRI, because it is the 100th anniversary of the formation of the Chinese People's Republic. While some investments in risky projects within the BRI framework may appear irrational from a business sense but could prove profitable at some point in the distant future in terms of economics, politics, connectivity or ideology. 
People-to-people educational activities and diplomacy with its BRI partners also enable China to build long-term relationships. Foreign students of all ages invited to Chinese schools become "ambassadors," when they return to their home countries.  While Trump's America is building walls to keep out foreigners, China is building bridges to foreign countries. For its part China is creating new opportunities in new places for its government, its companies and its BRI partnering countries.BRI roads and belts lead to all continents.They also lead back to China.
BRI and reactions to it are changing the world
There is a sharp increase in books about China these days, especially about different aspects of BRI that have become included in US-China trade war discussions. "One Belt One Road: China's Long March Toward 2049," was written to generate awareness about China's "going out" policy which challenges the status quo and is in fact changing geopolitics. The BRI is a now a worldwide project that is a challenge, some say threat, to the unity of regional organizations such as: the Organization of American States (OAS), the ASEAN, SAARC and even the EU. Some members of these organizations have chosen to try the Chinese model of development through infrastructure loans. Glantz observed that China has often behaved as a loner (for example, the Group of 77 +1,the China-CELAC Forum, or the CEEC's 16+1;in each case China is the +1).For BRI sustainability in the long term China must seriously embrace multilateralism with actions and not words.
What next?
"One Belt One Road: China's Long March Toward 2049" targets the public. It offers very interesting insights about the Belt and Road Initiative and can be of value and interestto those who need to be aware of this Chinese initiative. It is great material for the general public and specifically for college and high school students that will inherit leadership positions in government and business in the next generations.
Robert Jay Ross (Consortium for Capacity Building) and Gavin Goldstein Daugherty (Consortium for Capacity Building) also contributed to "One Belt One Road: China's Long March Toward 2049".
Because of the global importance and influence of the Belt and Road Initiative, Glantz confessed that the BRI had become one of his favorite research topics and spends considerable time staying on top of the development of the Chinese initiative.
"One Belt One Road: China's Long March Toward 2049" can be ordered on the editor's website and on Amazon.The book will be available in Russian, Vietnamese and Chinese by the end of the year.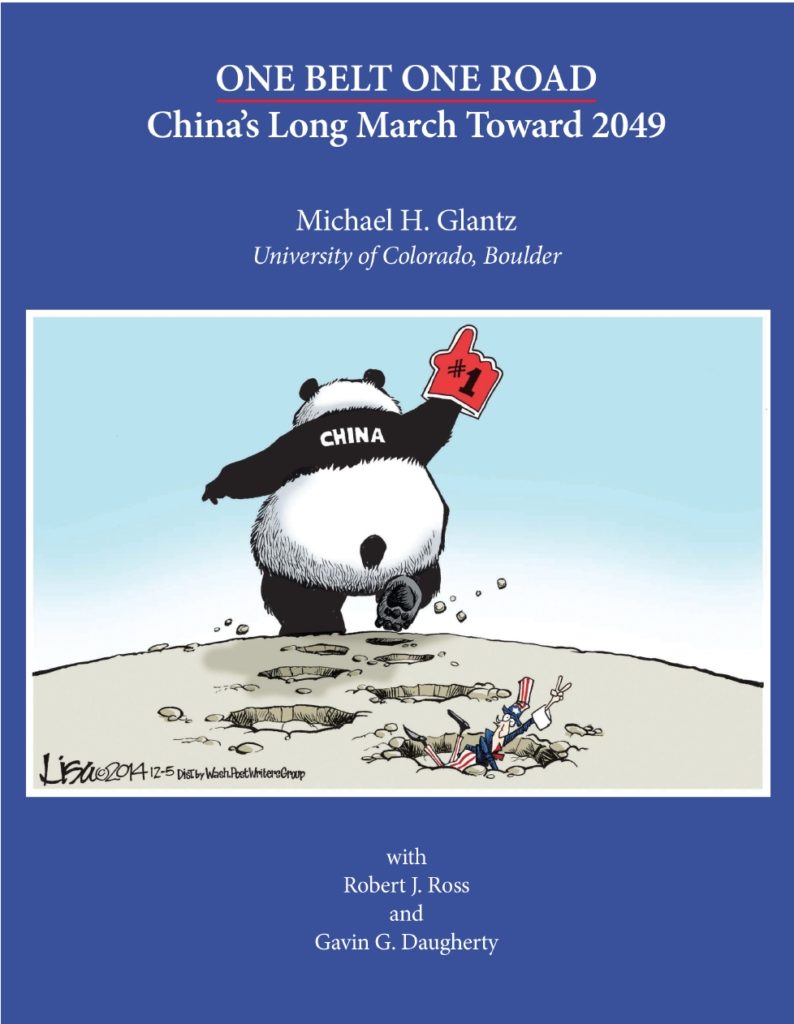 Share the post ""One Belt One Road: China's Long March Toward 2049," by Prof. Glantz"
"One Belt One Road: China's Long March Toward 2049," by Prof. Glantz