by Dr. Sebastien Goulard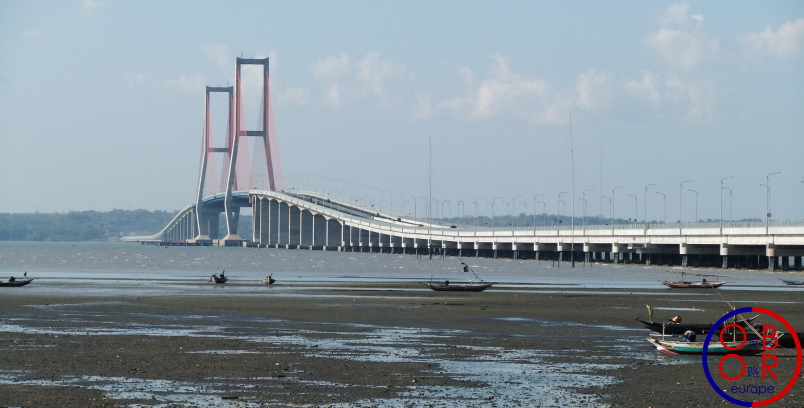 After his visit to Myanmar in January 2021, Minister of Foreign Affairs and State Councilor Wang Yi traveled to Indonesia to boost relations between Beijing and Jakarta. In Indonesia, Wang Yi met with President Joko Widodo, Foreign Minister Retno Marsudi and Coordinator for Cooperation with China and Coordinating Minister Luhut Binsar Pandjaitan.
The 21st Century Maritime Silk Road was first introduced by President Xi Jinping during a state visit in Indonesia in 2013. Since then, several major BRI projects have been planned in Indonesia, but some have been delayed.
Under Widodo's presidency, was implemented in Indonesia, a national development strategy focusing on maritime affairs, the Global Maritime Fulcrum.
As highlighted by Wang YI during his visit, the two strategies may be further coordinated in order to increase integration and develop trade between China and Indonesia.
Jalesveva Jayamahe (in the sea we triumph)
At the beginning of his presidency in 2014, Joko Widodo centered Indonesia's development policy on its maritime dimension. In several speeches, he highlighted the importance of maritime issues in the history of Indonesia. When taking the oath of office to become President in October 2014, Joko Wikodo announced his plan to make Indonesia a maritime power, a "Global Maritime Fulcrum" (GMF).
This programme is based on five pillars listed as followed:
promoting Indonesia's maritime culture;
better managing maritime resources;
developing maritime infrastructure;
improving maritime diplomacy;
strengthening maritime defense.
New ports and sea routes
The economic and territorial dimension of the GMF consists in developing sea infrastructure: 24 new ports are planned under this strategy.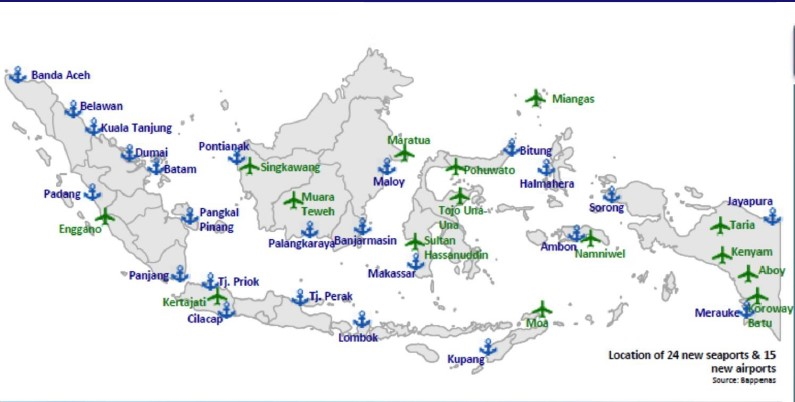 The development and modernization of Indonesian ports must reduce logistic costs and also make them more attractive in the region to capture a slice of international trade that is currently dominated by Singapore. Along those projects stands Java Integrated Industrial and Port Estate (JIIPE) near Surabaya, that offers port facilities, industrial parks and residential areas.
To boost connectivity, the modernized and new-built ports are inter-connected by 11 sea toll roads. The creation of these roads (in 2015) should progressively reduce logistic costs in the archipelago, but also decrease distribution prices for most goods produced in Western Indonesia and sold in Eastern regions.
However, ports alone are not sufficient to dramatically increase inter-island connectivity. Those ports need to be well-connected to their hinterland. It means that new inland infrastructure must be built.
The fading GMF?
However, during President Widodo's reelection campaign in 2019, the GMF was not mentioned anymore; and the maritime dimension of his policy seems to fade away. Indonesia still suffers from important regional inequalities ; per consequence, to make sea routes effective between Indonesian islands, efforts mut be pursued to develop industrial capacities outside Java (the most economically advanced Indonesian island). It means, that although ports are important for Indonesia's development, other infrastructure projects need to be conducted especially in the industrial and energy sector.
That is why Indonesia has identified other projects on most islands to be developed in priority. These projects are opened to foreign investors.
To increase connectivity, Indonesia needs also to improve governance. In the past, some projects have been delayed because of the lack of consistency among national and regional agencies with overlapping competences.
The BRI in Indonesia
Indonesia enthusiastically welcomed the "Belt and Road Initiative", and proposed several projects to be financed and constructed within the framework of the Chinese initiative. Among those projects, the most important one was the Jakarta-Bandung High Speed Rail (JBHSR) construction on Java island, that should be completed in 2023.
However, in Indonesia, some BRI projects had faced important delays. The slow implementation of BRI projects was partly due to the prudent approach adopted by the Indonesian government regarding the financing of those projects. Contrary to some other Asian nations, Indonesia preferred not to take direct loans from China but favored a business to business approach. In 2019, President Widodo proposed to China to set up a special BRI fund for Indonesia. In 2012, Indonesia and China already established a Maritime Cooperation Fund to finance joint project. On June 2017, China agreed to increase this fund in addition to the China ASEAN Maritime Fund. Following Wang Yi's visit to Indonesia, the Maritime Fund may be expanded.
Another cause of delay regards land compensations. This is especially true for large projects like the JBHSR. Several companies and communities have launched lawsuits to seek compensation from land acquisition by the State. Although this process takes some time, this creates good conditions to gain public support for developing projects.
Furthermore, China is not the only nation interested in developing infrastructure projects in Indonesia. Japanese companies are also involved in some construction project. The railway line that will connect Jakarta to Surabaya in 2025 is constructed in partnership with Japan International Cooperation Agency. Other powers including India, the USA are looking closely at the development of infrastructure projects in Indonesia.
Future cooperation between BRI and GMF
Wangi Yi's visit may revive GMF and boost cooperation between the Indonesian programme and the BRI. Indonesian Minister of Foreign Affairs Retno Marsudi has already announced the alignment of the GMF and the BRI. The Covid crisis is likely to strengthen ties between China and Indonesia. Indonesia has been severely affected by the Covid crisis; in late January 2021, Indonesia surpassed 1 million confirmed COVID-19 cases, and in 2020, the country suffered its first recession in 22 years. Some sectors and regions, for example the tourism industry in Bali, have been severely affected by the Covid crisis. New infrastructure projects will not only create jobs in the construction sector, but will also enable Indonesia to diversify its economy and reduce territorial inequalities.
For China, Indonesia' s economic recovery is also a major challenge, as the Southeast Asian country is an important customer and could become a destination for Chinese companies to relocate their activities due to Indonesia's low salaries.
As islands are getting better connected thanks to the GMF and the BRI, Indonesia will become more attractive to foreign companies and investors. New opportunities will be created in Java, but also in Sumatra, Kalimantan (where Indonesia new capital city is to be built), Sulawesi, Maluku…
Share the post "China's BRI in some ASEAN countries (2/4): Indonesia's GMF"
China's BRI in some ASEAN countries (2/4): Indonesia's GMF