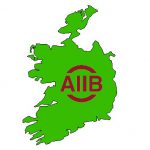 Ireland is expected to join the Asian Infrastructure Investment Bank this year.
Its membership was informally granted on 25 January 2017 during a meeting between Michael Noonan, the Finance Minister of Ireland and Jin Liqun, President of the AIIB.
By joining the AIIB, Ireland hopes to expand its trade with China and makes Dublin a major financial center between Asia and the European Union.
AIIB's main mission is to support the financing of infrastructural projects in the Asia-Pacific region and to ensure regional development. The AIIB is also involved in the Belt and Road strategy developed by China.
About 20 states, including Canada and Ethiopia, are expected to join this new regional financial institution in 2017.
Greece and Cyprus could also join the AIIB in 2017. Other members of the European Union such as France, Germany, the Netherlands, Italy, Malta Poland and Portugal are already part of the AIIB.