by Dr. Sebastien Goulard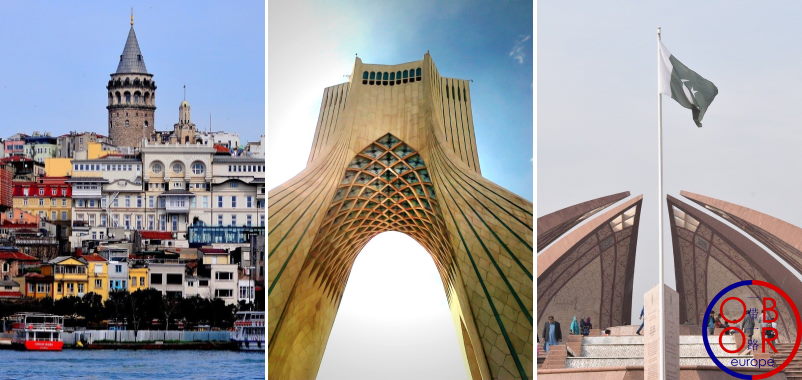 Authorities in Turkey, Iran and Pakistan agreed to resume the Istanbul-Tehran-Islamabad and increase connectivity from Eastern Mediterranean Sea to South Asia. The reviving of this railway line is consequence of the development of the Belt and Road Initiative launched by China.
The Istanbul-Tehran-Islamabad line
The Istanbul-Tehran-Islamabad (ITI) railway was first launched in 2009 on trial basis. However, sanctions against Iran, but also lack of investment in infrastructure and insufficient trade made this project difficult to maintain.
In early 2020, Turkey, Iran and Pakistan announced the relaunch of the line; however due to the Covid19 crisis, this was delayed. On December 2020, at the 10th edition of the Economic Cooperation Organization's (ECO) Transport and Communications Ministers Meeting in Istanbul, the three countries decided to put this line into service in 2021.
This route will span 6,500 km, being one of the longest routes in the region. The journey from western Turkey to central Pakistan may only take 11 days, making the route a reliable and fast alternative to transportation by sea.
The ITI and the ECO
The ITI is a major project developed by the Economic Cooperation Organization (ECO). This regional organisation was founded by Turkey, Iran and Pakistan in 1985 to boost regional trade and integration. In 1992, Afghanistan, Azerbaijan, Kazakhstan, Kyrgyz Republic, Tajikistan, Turkmenistan, and Uzbekistan joined in the ECO. In spite of ambitious goals, the ECO had faced many challenges that prevented the organisation from achieving its initial goals. War and Instability in Pakistan was for long a major obstacle for prosperity in the region. Sanctions against Iran deterred some companies and governments from developing regional initiatives.
With the ITI, Iran will gain regional visibility and can become a hub again between Europe, Middle-East, Central Asia and South Asia.
The ITI and the BRI
The development of the Belt and Road Initiative (BRI) since 2013 has given new prospective to the ITI, as Turkey, Iran and Pakistan have actively embraced the Chinese programme.
China and Pakistan have pledged to develop their relations and build together the China Pakistan Economic Corridor (CPEC). One aspect of this corridor regards the modernisation of transportation infrastructure in Pakistan: new highways and railways are planned under this programme. Although a possible railway connection between China and Pakistan has still not been decided, other railway projects between Pakistani major cities are under construction. In December 2020, Islamabad and Beijing were still negotiating on/about the ML-1 projects that consisted in the dualization and modernization of the railway line between Karachi and Peshawar.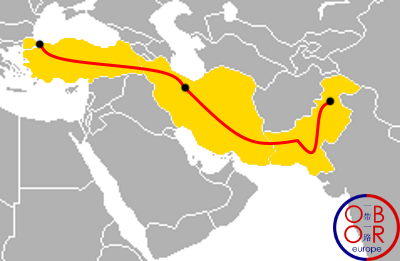 Many railway tracks in Pakistan have not been restored for almost one century and need serious upgrading to make rail transportation faster and more reliable. The railway line connecting Quetta in Pakistan's Balochistan to Mirjaveh (ML-4) in Iran Is particularly vulnerable, and plans has been made to upgrade it.
However, China is progressively opening the BRI to other countries, wants more non Chinese companies to invest in BRI projects. The upgrading of the ITIT line will not be entirely financed with Chinese funds. Turkey, Iran and Pakistan will have to attract regional and foreign companies in this programme. But when the line is in service, it will become a major corridor for economic development creating new opportunities in cities and Special Economic Zones in the three countries.
What goods to be transported?
With this new railway line, Turkey, Iran and Pakistan position themselves as a major hub between Europe and Asia. But this new freight line will also boost connectivity and trade between the three countries. Regional trade is limited. For example, only 1.26% of Pakistan's exports go to Turkey and less than 0.1% to Iran.
To make this live profitable, Pakistan, Iran, and Turkey will need to better coordinate their economic policies so that local companies make use of this new line.
A new road to China?
This new line will only take on its full meaning when it is linked to Chinese territory and will thus increase trade from turkey to Xinjiang. China is today one of the largest trading partners of Turkey, Iran and Pakistan. This new line will further increase this trade.
Regional Openness
The line will also further open to foreign companies new regions and cities in Turkey, Iran and Pakistan. European companies may find new markets in the three countries to develop new ties.
Share the post "New railway line between Istanbul, Tehran and Islamabad in 2021"
New railway line between Istanbul, Tehran and Islamabad in 2021