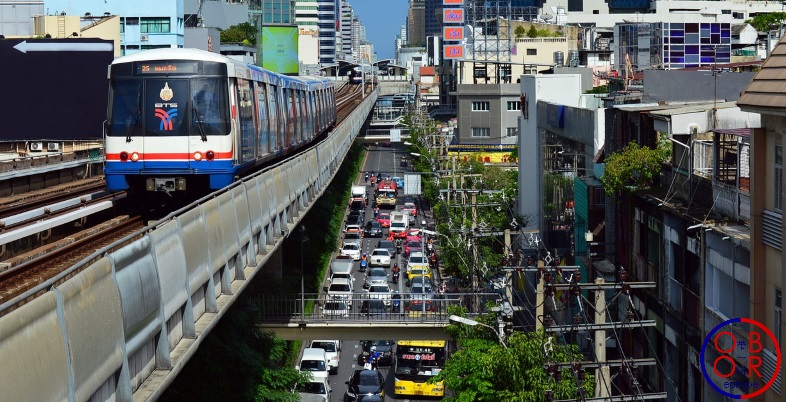 In late  August 2017, the Government of Thailand announced that the construction of a high-speed train line between Bangkok and Nong Khai, a border town next Laos, will start next October. The first phase of this project will consist of the construction of a line between Bangkok and Nakhon Ratchasima in the northeast of the country. This project is the result of Sino-Thai cooperation. The feasibility and engineering studies will be entrusted to Chinese companies, while the construction will be carried out by Thai workers.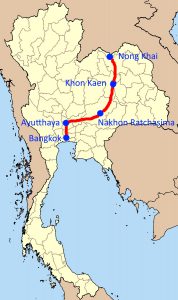 When the line is opened (by 2020), it will first be operated by a Chinese company for three years before being entrusted to Thailand.
This project has been in the pipeline since November 2014, when China and Thailand signed a first cooperation agreement.
The construction of this new line is part of the "Belt and Road" initiative. The Bangkok-Kunming railway is one of the components of the China-Indochina corridor. Other projects include the construction of a railway linking Yunnan to Myanmar and a high-speed railroad line linking Nanning in Guangxi to Hanoi in Vietnam.
Eventually, a high-speed line will link Singapore to Kunming the capital of the Chinese province of Yunnan via Bangkok and Vientiane.
In Malaysia, China is involved in the construction of a railway line from Kota Bharu on the Thai border to Port Klang near the capital Kuala Lumpur. This line should be operated from 2024. Further south, a call for tenders will be launched before the end of the year to link Singapore to Kuala Lumpur.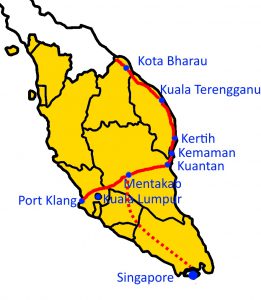 When all these lines are realized, a new corridor will connect all the metropolises from Southern China to Singapore.
However, this programme faces some obstacles. First, they are mainly bilateral projects between China and the various states of Southeast Asia. Interconnections between future Laotian, Thai and Malaysian networks are not yet prepared. Greater coordination is needed to ensure trade along these new infrastructures.
In the same way, it is also necessary to develop secondary axes not only connecting China to the Indochinese peninsula, but also among the main cities of South East Asia. To achieve this goal, these states will have to overcome their divergence and propose new lines connecting for example Thailand to Cambodia.
Furthermore, these infrastructures have high costs, which could increase the financial risks of some of the region's least developed economies such as Laos. For these states, it is necessary to limit their  debts and to develop sustainable partnerships with investors while adopting an inclusive approach towards local populations.
European companies must now take into account these new infrastructures which could transform certain activities in Southeast Asia. The introduction of new freight train lines will create new flows in the region. Exchanges will intensify and productions of landlocked regions such as Laos will have access to new markets.
Tourism is also likely to increase along these new routes of communication. New secondary destinations will open up to Chinese and foreign tourists.
Great attention must be paid to the various cities such as Udon Thani and Nong Khai which will host the Kunming-Bangkok line. New activities related to tourism, real estate and industry are expected to grow in the near future.
Thailand's high speed train to China