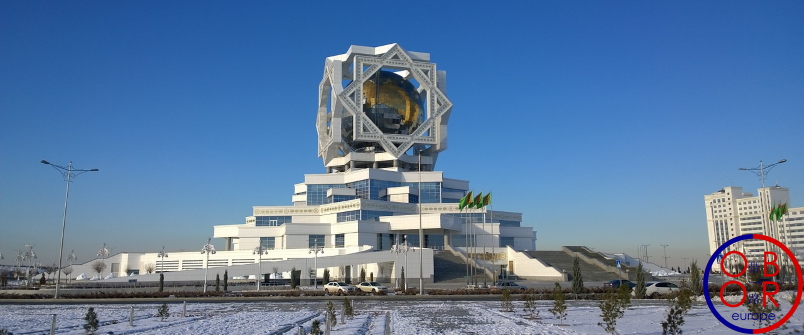 By Kerven Choganov
Turkmenistan is progressively opening itself to the world with the development of large scale infrastructure projects including transnational energy projects and multimodal regional transport corridors. Ideally located between Central Asia, Middle East, South Asia and the Caucasus, Turkmenistan can become a major hub when further reforms will be carried out in collaboration with regional countries. To achieve this goal, more cooperation must be conducted at the regional level. In this regard, on June 2016, in Tashkent, Turkmenistan President Gurbanguly Berdimuhamedov met with China's President Xi Jinping, and had discussed further cooperation with the Belt and Road Initiative. In late November 2019, Turkmenistan President met with Uzbekistan president Mirziyoyev to discuss about enhancing future trade and transportation in the region.
China and Central Asia
After the collapse of the Soviet Union, China has established good diplomatic, economic and cultural relations with its Central Asian neighbors: Turkmenistan, Kazakhstan, Kyrgyzstan, Tajikistan and Uzbekistan. All five countries have signed strategic agreements with China. The foreign policy of China in Central Asia originated from the Five Principles of Peaceful Coexistence (first introduced in 1954 for China-India relations): 1) respect for territorial integrity and sovereignty, 2) non-aggression, 3) non-interference in each other's internal affairs, 4) equality and mutual benefit, and 5) peaceful coexistence. Therefore, for contributing to the overall development of Central Asia and increasing integration, China has financed and made direct investments to the energy, infrastructure and extraction sectors in the natural resource rich Central Asian states. While these investments provide better access to these new markets and offer energy security to China and its state enterprises, they also fuel economic growth in Central Asian countries. As a result of these mutually beneficial relations, bilateral trade volume has increased 100 times since 1992, which makes China the biggest trade partner of the region.
China and Turkmenistan
Turkmenistan, strategically located at crossroads of the East-West and North-South roads, was historically the cradle of many civilizations and an important destination of the Ancient Silk Road. Today, the country possesses lots of natural resources (Turkmenistan has the 4th largest proven natural gas reserves in the World according to BP Statistical Review of World Energy). China established diplomatic relations with Turkmenistan in 1992. Since then, the two states regard each other as important partners of cooperation, support each other's choice of development path in line with national conditions and maintain close coordination and cooperation in international and regional affairs. China has become the largest trade partner of Turkmenistan (in 2016, 70% of Turkmen exports, -mostly gas-, went to China), while Turkmenistan has become the third largest trade partner of China in the Commonwealth of Independent States, and the two countries are each other's largest cooperative partner in natural gas.
Turkmenistan and China gas pipeline
Based on a production sharing agreement signed by China National Petroleum Corp (CNPC) and Turkmenistan authorities in 2007, Turkmenistan will export 30 billion cubic meters of natural gas to China annually for 30 years through 4 pipeline lines: Line A (became operational in 2009), Line B (became operational in 2010), Line C (became operational in 2014) and Line D (expected to be operational in 2020). These pipelines run from the border between Turkmenistan and Uzbekistan, pass through Uzbekistan and Kazakhstan and link up with China's West-to-East gas pipeline in Khorgos, Xinjiang Uygur Autonomous Region. For China, these natural gas pipelines contribute to meet the demand of its growing market and support the gas-for-coal strategy adopted by China to reduce the country's air pollution. For instance, this project had delivered a total of 277.4 billion cubic meters of natural gas to China by June 2019 and had benefited over 500 million people in 27 provinces and regions in China. Furthermore, as of December, 2017, according to CNPC, daily imports of 39 million cubic meters of Turkmen gas can cover one-third of winter gas consumption in China, as well as cut coal consumption by 63,000 tons per day, which can reduce pollution. For Turkmenistan, exporting natural gas to China helps diversify its energy exports to the East. Therefore, this project can be considered as "win-win" situation to all participant parties.
The International North-South transportation corridor
Turkmenistan's geographical location makes it one of the most important connection members and supporters of the International North-South railway transportation corridor which provides railway connection between Russia-Kazakhstan-Turkmenistan-Iran. The corridor also offers a China-Kazakhstan-Turkmenistan-Iran railway connection (approximately 10,400.00 km). This corridor aims to increase economic integration and cooperation between participant countries: Russia-Iran-Turkmenistan-Kazakhstan and China. Although transportation costs still remain relatively high, this way is much more time effective than maritime routes (it takes only about 14 day to reach Tehran from Central China by rail, instead of 45-50 days by maritime shipping). It provides alternative routes to markets as it is the first East Asia-South Asia first railway corridor. Moreover, Turkmenistan may become a transit hub on the corridor China-Azerbaijan–Europe corridor via Turkmenbashi seaport of Turkmenistan on the shore of the Caspian Sea. Alongside with Persian Gulf, Chinese freights can also easily access to the Europe through this corridor.
The Lapis Lazuli international transit corridor
Turkmenistan has been actively contributing to the peace and reconstruction of Afghanistan. Turkmenistan has strongly supported the realization of the Lapis Lazuli international transit corridor, which aims to integrate Afghanistan to the rest of the World thanks to a new railway passing through Turkmenistan, Azerbaijan, Georgia and Turkey. The corridor has been operational since 2018 and it has been playing a vital role in Afghanistan's economic growth. Thanks to the connection between the Lapis Lazuli corridor and the North-South corridor in Turkmenistan, Afghanistan and China can exchanged more goods. Due to this corridor's contribution to the security of the region and development in the Afghanistan, China has supported Turkmenistan's initiatives for implementation of this project from the beginning.
Turkmenistan-Afghanistan-Pakistan-India (TAPI) pipeline project
This is a natural gas pipeline being partly financed by the Asian Development Bank; this project is under construction in Turkmenistan. The aim of the TAPI is to deliver 33 billion cubic meters of Turkmen natural gas per year, of which 5 billion cubic meters will be provided to Afghanistan and 14 billion cubic meters to each Pakistan and India. Since the beginning of the 21st century, economic and political instability in the Afghanistan has been a constant threat to region's security. Importing 5 billion m3 Turkmen gas per annum with subsidized price through pipeline is going to boost Afghanistan's economy by creating opportunities for local businesses and new jobs. Moreover, TAPI will not only boost Afghanistan's current economic situation, but the project also unites all parties in the country under the same purpose. For instance, the Taliban issued a statement, pledging cooperation with TAPI, which it said would be an important element in building up Afghanistan's economic infrastructure.Therefore, for the sake of project's contribution to stability and peace within the region and globally, China has been supporting all the phases of the realization of the project.
All the above corridors and energy infrastructure projects were planned before the launching of China's BRI and they were regional projects with limited capacity and participation. When these projects cooperated with the BRI, they have become part of the global agenda for energy security and intercontinental corridors with accessibility to major transport networks. But these energy projects and corridors will not be enough to boost connectivity between landlocked Central Asia region and World markets. The BRI is also about decreasing artificial barriers to the flow of goods, services, capital and knowledge across borders along the new Silk Roads. Turkmenistan and other Central Asia countries will continue to coordinate their projects and policies so that investors from China and other BRI countries conduct projects in the region.
Kerven Choganov is currently studying MSc International Business and Development at Birkbeck, University of London, fully funded by the Chevening Scholarship of Foreign&Commonwealth Office of the United Kingdom. His Master research focuses on international development and investment projects in Asia.

Turkmenistan's strategic corridors