On January 17 and January 18, 2019, the Chinese president paid a state visit to Myanmar to mark the 70th anniversary of PR China-Myanmar relations. Xi Jinping discussed with State Counsellor Aung San Suu Kyi the progress of BRI projects in Myanmar. During his visit, 33 agreements were signed between the two countries, notably in the agriculture, transport and media sectors. Following this visit, new development will be seen in the China-Myanmar corridor.
The three priority projects
In a statement published in Myanmar three main newspapers the day before his arrival, President Xi Jinping announced new efforts to develop the three pillars of the China Myanmar corridor.
1) The Kyaukpyu special economic zone. In 2015, a Chinese consortium led by CITIC won bids to build a deep water port. After several years of negotiations, construction will start soon, and the port will be fully operational by 2025. It will be supplemented by a special economic zone; it will attract new activities and enable economic development in Rakhine State, one of Myanmar poorest regions.
2) The second point regards the Sino-Burmese border economic cooperation zone at Muse-Ruili. This project consists in developing border trade in the northern regions of Myanmar and strengthening regional stability.
3) The third project aims to accelerate the development of "New Yangon City". Yangon, the commercial capital of Myanmar is facing rapid population growth and is close to saturation. In 2018, the Chinese company "China Communications Construction Company" (CCCC) was entrusted with the construction of "New Yangon City", a new district that would house 1.2 million inhabitants by 2050. This project will offer residential, commercial and industrial areas, with the creation of a special economic zone.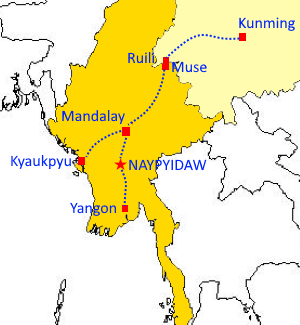 China Myanmar corridor projects ought to be connected by the Kunming-Kyaukpyu railway line. This new line would partially follow the China-Myanmar pipeline in operation since 2017. A first rail line project had been launched in 2011 before being abandoned in 2014, and was then re-launched with the development of the BRI.
This line has several objectives. Firstly, it will make easier for Burmese companies to export to China, especially for agricultural products. New industrial production made in special economic zones in Myanmar will be shipped to China through this line. This project will also accelerate the development of Chinese tourism in Myanmar. Chinese visitors are already the largest group in Myanmar.
A win-win partnership
This corridor is strategic for China because it creates an alternative to the Strait of Malacca; this will facilitate transport between southern China and South Asia. This corridor also aims to affirm the role of Kunming as the main hub between China and Southeast Asia. The capital of Yunnan must also be connected to Laos, Vietnam and Thailand; this should increase the internationalization of businesses in southwest China's provinces.
For Myanmar, the main objective is to become more attractive to foreign investors. Myanmar had suffered for a long time from economic sanctions before the implementation of reforms since the 2010s. But the poor management of the Rohingya crisis has weakened Burmese diplomacy. Following accusations against the regime in Myanmar, some western countries adopted new measures against several Burmese leaders and this may weaken Myanmar attractiveness.
Chinese investment are therefore welcome in the country. The new infrastructure created by the China Myanmar Corridor will also encourage other companies to take a closer look at opportunities in Myanmar. Companies from Singapore (the leading investor in Myanmar ahead of China) hope to benefit the country's infrastructure projects to export their expertise and participate in this corridor.
Share the post "Xi Jinping's state visit to Myanmar: strengthening the BRI"
Xi Jinping's state visit to Myanmar: strengthening the BRI