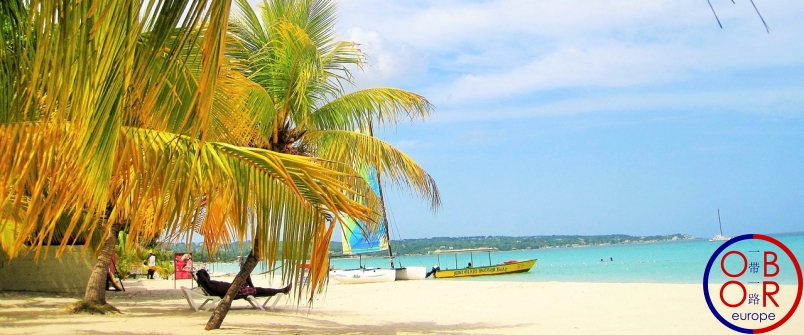 The BRI is not limited to countries along the ancient Silk Roads. As noticed at the second Belt and Road Forum, the BRI attracts both China's neighbors (Pakistan, Central Asia), world powers (Russia, the European Union), and developing countries like in Eastern Africa. Latin American countries such as Chile and Panama have also accepted the Chinese invitation and since the beginning of 2019, the BRI has also made several realizations in the Caribbean.
In May 2018, Trinidad and Tobago joined the BRI, followed by Guyana (July) and Surinam (September). In February 2019, Barbados also joined the BRI; China and the Bahamas signed a $12 million assistance agreement. Finally, on April 11, 2019, Jamaican Foreign Minister Kamina Johnson-Smith and Chinese Ambassador in Kingston, Tian Qi signed an agreement to formalize Jamaica's participation in the BRI.
For Jamaica, as for other Caribbean states, participation in the BRI is motivated by several factors.
First, although trade between China and Caribbean states has increased in recent years, more trade can be developed between the two regions. The United States remains the first trading partner of most Caribbean states, but the latter ones are keen to reduce their dependence on the US market by developing new activities with China.
Caribbean states are also very dependent on tourist flows from the United States. In 2017, American tourists accounted for nearly 65% ​​of foreign visitors to Jamaica. The development of the new Silk Roads might attract more Chinese and Asian tourists.
Furthermore, Caribbean states also need new infrastructure. In the case of Jamaica, Chinese companies already built the new north-south highway (Edward Seaga Highway), the island's main road. Thanks to new investment from China, Jamaica could further modernize its infrastructure.
Caribbean islands also hope that cooperation with China will lead to economic diversification in order to reduce their dependence on tourism and agriculture, and to strengthen their manufacturing sector.
But for this integration into the new silk routes to become successful, Caribbean islands will need to strengthen their coordination to avoid regional competition. As China is expanding in the Caribbean, cooperation between China and CELAC (Community of Latin American and Caribbean States) must be strengthened, as infrastructure projects will require greater regional cooperation.
The Caribbean and the BRI