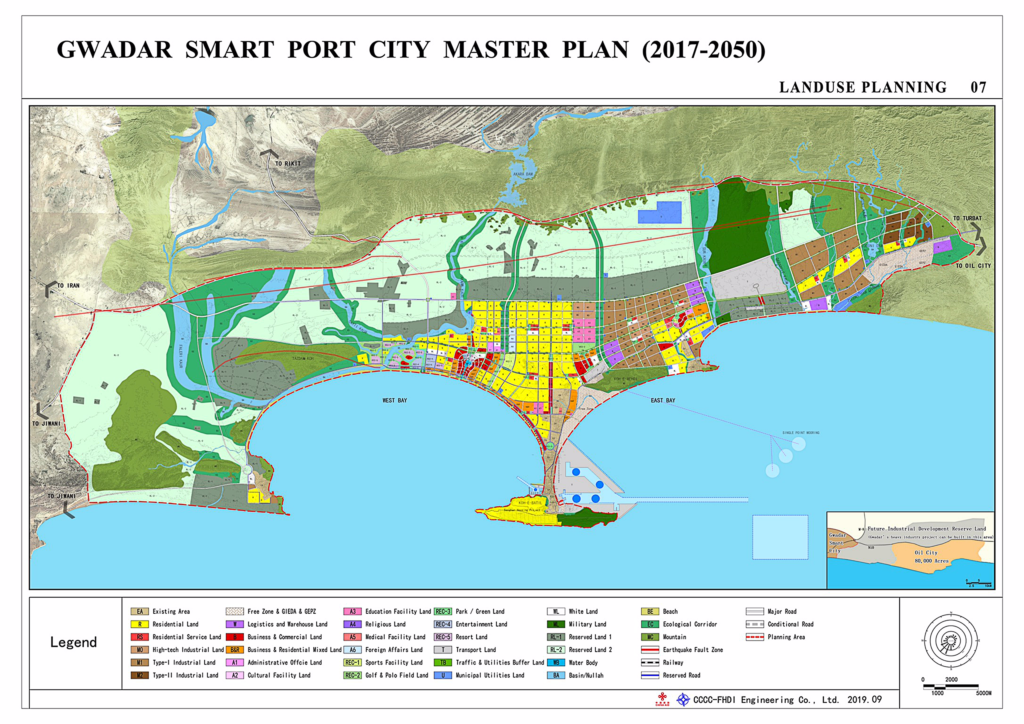 In late September 2019, the master plan of the city of Gwadar in Pakistan was finally approved by local authorities.
It took nearly four years for China and Pakistan to draft this document. A first memorandum of understanding regarding the construction of this new city was signed by Beijing and Islamabad in November 2015 before the signing of a formal agreement in May 2017. This delay reflects the challenged related to the construction of Gwadar, a major metropolis that will host more than 2 million inhabitants by 2050 (300,000 inhabitants currently live in Gwadar).
A metropolis under construction
The port of Gwadar is the centrepiece of China Pakistan Economic Corridor, BRI's most advanced segment. Gwadar is expected to become one of the major hubs in Pakistan and Asia. Gwadar is the place where all pipelines from Central Asia and Western China will converge.
The city of Gwadar is expected to be Pakistan's third deep-water port after Karachi and Port Qasim (near Karachi).
A new airport is also under construction in Gwadar, and is expected to open within three years. It will be Pakistan's second largest airport in Pakistan after Islamabad. This project was entrusted to "China Airport Construction Group Corporation".
A Rapid development
Islamabad wants to develop Gwadar with no further delay; companies in charge of the construction of the first residential districts will have to deliver their first realizations by 2022. For Pakistani authorities, it is important to make Gwadar more than just a SEZ, but the home of a large and dynamic population who would enjoy modern equipment. Priority is also given to integrating the local population into the new city to promote an inclusive city.
Business Incentives
To accelerate the development of Gwadar, Pakistan needs to attract new investors.
In early October, Imran Khan made his third official visit to Beijing, where he met with President Xi Jinping and Premier Li Keqiang, and discussed about the development of Gwadar. Before this visit,  Pakistan decided to grant a 23-year tax holiday for Chinese investors  in the Gwadar Special Zone. This measure will for the moment be limited to the Gwadar SEZ alone, and does not currently concern local investors and investment in other SEZs in Pakistan.
During his visit to the United States in July 2019, Pakistani Prime Minister Imran Khan encouraged the US-Pakistani community to invest in the China-Pakistan economic corridor, including in the development of Gwadar. New measures will soon be introduced to further attract foreign companies.
What prospects for European companies?
Today, Chinese companies are the most involved in the development of Gwadar because of the partnership between Islamabad and Beijing for the realization of the China Pakistan Economic Corridor. The Gulf states are more and more interested  in Gwadar. The city will soon become Pakistan's showcase, and many calls for projects will be launched to make Gwadar a smart city open to the world. Therefore, Gwadar will offer many opportunities to foreign and European companies in many sectors including transport, housing, energy, culture and entertainment.
Share the post "Gwadar's masterplan approved in September 2019"
Gwadar's masterplan approved in September 2019