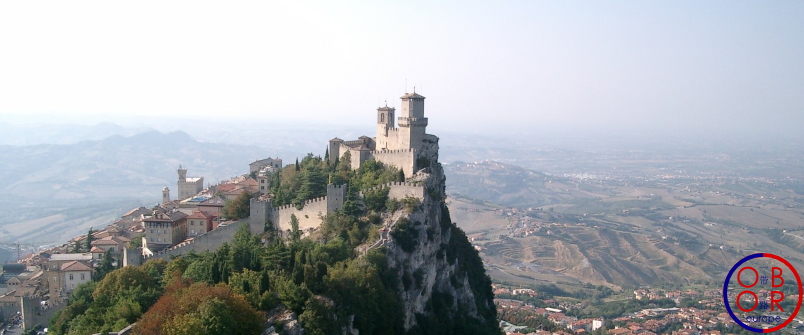 In August 2019, the leaders of the Republic of San Marino, Nicola Selva and Michele Muratori, the "Captains Regents", announced during the visit of the Chinese Ambassador to Italy and San Marino, their wish for San Marino to join the new Silk Roads.
For several years, the Republic of San Marino has strengthened relations with China, and hopes to attract more Chinese tourists thanks to its heritage and history, as it is the oldest republic in the world. Thus, Chinese visitors do not need a visa to visit San Marino, this measure is symbolic since these visitors must still have a Schengen visa to come first to Italy before moving to San Marino. However, San Marino expects a lot from the development of the Rimini airport (Federico Fellini), -this is the closest Italian airport to the republic-, which in 2017 received the "Quality Service Certification" from the Chinese authorities; thanks to this certification, this destination is better promoted to Chinese tourists. There is also a modernization project for railways connecting Rimini to San Marino.
Another goal for San Marino is, as for Switzerland or Luxembourg, to allow its financial sector to participate in the financing of BRI projects, perhaps with "panda bonds". In 2012, San Marino and China signed an agreement on the exchange of information relating to taxes which allowed for greater confidence between the two states.
Finally, by joining the BRI, San Marino aims to accelerate its "San Marino Innovation" program. This program consists in transforming the republic by hosting start-ups and developing blockchain technology. San Marino and Monaco are among the first European territories to be covered by 5G. Last month, the Chinese company ZTE opened a specific subsidiary company in San Marino; ZTE can therefore be expected to participate more in innovative projects in San Marino.
A possible partnership of San Marino in the BRI would testify to the Chinese willingness to root its projects locally in Europe.
Partnership actions between China and San Marino can only be considered in a perspective integrating Italy. San Marino relies entirely on its Italian neighbour for transport and imports, so a San Marino-China partnership should also be extended to the regions of Emilia-Romagna and Marche. This requires greater decentralized cooperation between the Italian regions and the Chinese provinces.
Share the post "San Marino, the oldest republic, ready to join the BRI"
San Marino, the oldest republic, ready to join the BRI