by Dr. Sebastien Goulard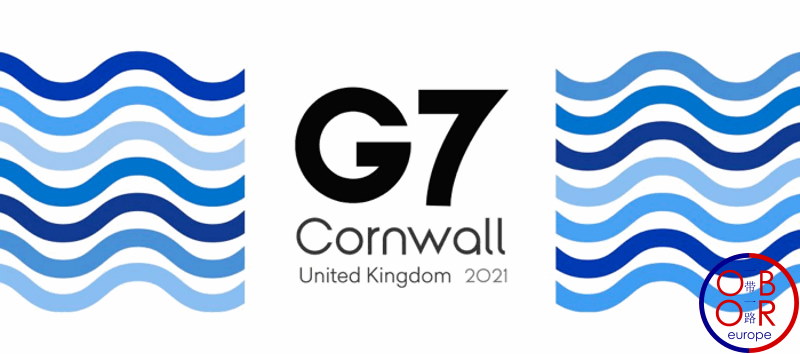 The United Kingdom recently hosted the G7 summit in Caris Bay, from 11 to 13 June. Leaders of the Group of Seven (Canada, France, Germany, Italy, Japan, the United Kingdom and the United States) and EU representatives met to discuss world challenges. It was the first onsite G7 summit since the pandemic, and leaders vowed to speed up the supply of vaccines to developing countries by donating millions of surplus doses.
Another major topic addressed during this meeting concerns China and the challenges caused by its rise. Leaders representing Australia, India, South Korea and South Africa, four nations of the Indo-Pacific region, were also invited to attend the event. US President Biden, for whom this summit was the first official trip abroad since his election, is to continue his predecessor's policy regarding China, as tensions between the two countries continue to mount.
At the summit, President Biden announced the creation of a new infrastructure financing mechanism for developing countries. This programme, named "Build Back Better World" (B3W), is clearly designed to compete with China's Belt and Road Initiative (BRI).
The B3W
According to the US President, the B3W will help deliver to developing nations up to $35 trillion worth of projects by 2035. This initiative will offer a vision of a cleaner, greener world, a solution to the problems of climate change and create values-driven, high-standard and transparent partnership with developing nations.
One aspect of this initiative is to help developing nations adopt greener technologies; regarding this objective, G7 members agreed to donate $100 billion per year to poor countries so that they do not have to rely on coal-fired and other polluting energies.
It is too early to truly analyse the scope of the B3W, as more details are needed to understand how this initiative will work and how it will be funded. The German Chancellor, Angela Merkel, warned that no practical details have been decided yet, but she expressed hope that by the next G7 meeting (to be held in Germany in 2022), various projects financed through the B3W will have been introduced.
Under Biden's presidency, the US administration has given infrastructure a new boost. The US was lagging behind China in terms of its transportation network, so to solve this issue, Joe Biden has unveiled a $2.25 trillion proposal to modernize US infrastructure and improve connections between US cities. The B3W can be seen as the continuation of this domestic policy.
Some previous initiatives
The main challenge that the US administration faces with this project is to avoid upsetting developing nations. It is not the first attempt made by Washington to compete with China's BRI. Two years ago, the then US Secretary of State, Mike Pompeo, introduced a plan to finance infrastructure construction abroad, with creation of the United States International Development Finance Corporation. Then, in November 2019, the US (in cooperation with Japan and Australia) inaugurated the "Blue Dot Network", which was aimed at evaluating an infrastructure construction project in the Indo-Pacific region. However, few projects have been conducted since then. In March 2021, President Biden also announced creation of the SALPIE (Small and Less Populous Island Economies) Initiative, which is specially designed for small countries in the Caribbean and the Pacific region. Contrary to China's BRI, these initiatives seem rather fragile, so developing countries are slightly reluctant to join them as they do not know how long they will last for.
What will the repercussions be for China's BRI?
Chinese officials have already expressed their discontent regarding the B3W and have rejected criticism from G7 countries.
The B3W may actually accelerate improvement of the BRI. This connectivity programme has repeatedly been criticized by some Western think tanks for possibly creating debt traps for developing nations. However, since launch of the BRI in 2013, BRI projects have become more inclusive and transparent, with the participation of Chinese and foreign multinationals. The norms and standards applied for BRI projects have improved over time. Creation of the rival B3W may put pressure on China to offer more favourable conditions to countries involved in the BRI.
New opportunities for developing countries?
G7's sponsored initiative may create some opportunities for countries in Asia and Africa that are looking to modernize their infrastructure. These countries can already apply for financial support from the World Bank, the Asian Development Bank, the Africa Development Bank or the Asia Infrastructure Investment Bank, created by China in 2014. They may also benefit from some international aid programmes offered by developed countries. The B3W will be one of many funding mechanisms promoting development. Possible competition between the BRI and the B3W may incite the US and China to give better terms and financial conditions to countries wishing to receive assistance.
However, to benefit developing countries and bring prosperity, it is important that both the BRI and the B3W remain open and non-exclusive. A country should remain free to opt for the BRI programme for one project and choose the B3W for another. Similarly, foreign companies must continue to get involved in BRI projects, and Chinese companies should be allowed to submit tenders for B3W projects. The main risk associated with the growing tensions between China and the US is the building of two separate economic systems, with no interaction in-between. This separation will not help developing nations; the BRI and B3W need to complement each other.
The "Build Back Better World" programme