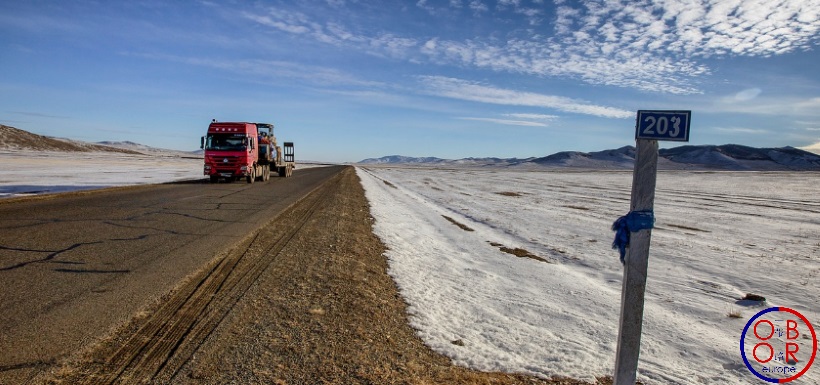 Mongolia is increasingly involved in the realization of the new Silk Roads.
One of the corridors of this initiative linking China to Russia is passing though Mongolia. The Belt and Road initiative aims to improve transport and communication infrastructure between China and Mongolia. But this cooperation also includes other sectors. China is now the largest investor and trading partner of Mongolia and since 2014 the two countries are bound by a strategic partnership.
Mongolia hopes to take advantage of its strategic position between China and Russia to ensure its development. In November 2014, Tsakhiagiyn Elbegdorj, the then President of Mongolia, unveiled his "steppe route" program, which planned the construction of road links between its two neighbors and the development of the power grid. This national program must then be integrated into China's Belt and Road initiative, as announced by the authorities of the two countries on several occasions.
With the China-Mongolia-Russia corridor, two free trade zones must be established: one in Gashuun Sukhait on the Sino-Mongolian border and the other in Altanboulag on the Russian-Mongolian border. According to the Mongolian government, the development of the new silk roads could also enable the development of projects in agricultural industry and ecotourism.
In order that all the programs linked to the Belt and Road initiative come true, China and Mongolia are strengthening their financial cooperation.
In early September 2017, the Industrial and Commercial Bank of China (ICBC), the world's largest bank, opened an office in Ulaanbaatar.
On 26 September 2017, an association of financial cooperation between China and Mongolia was inaugurated in Hohhot, Inner Mongolia. The association, sponsored by China's Baoshang Bank and the Mongolian Bank for Trade and Development, gathers thirty-three financial institutions from both countries.
The aim of this association is to promote Sino-Mongolian exchanges and to better coordinate the financing of projects related to the China Mongolia Russia economic corridor, by sharing investment risks and facilitating cross-border operations.
Thanks to the Belt and Road initiative, Mongolia hopes to reduce its dependence on extraction, diversify its economy and develop its industrial sector. Better integration into regional transport networks would enable Mongolia to increase its exports. Although the steppe route means greater integration with China. Ulaanbaatar also hopes that the new silk roads will diversify its economic partners, and attract European investors.
it is now necessary for Mongolian and European financial institutions to strengthen their relations so that European companies may develop projects in Mongolia and invest in this China Mongolia Russia corridor.
Share the post "Mongolia, a new link in the Belt and Road initiative"
Mongolia, a new link in the Belt and Road initiative