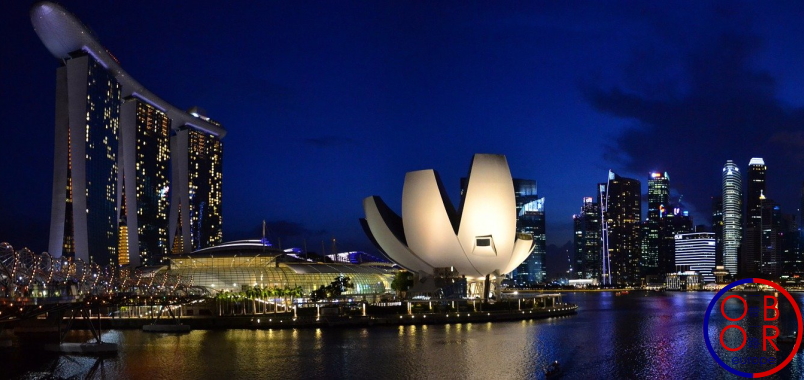 The World Bank Group had classified Singapore as a high income country. With a per capita income recorded at over USD 54,000 in 2017, Singapore had sustained a 7.7 percent growth rate per year since 1965 owing to its industrialization programme and economic liberalization. According to the 2020 Human Capital Index, Singapore's value is recorded at 0.88 indicative of the productivity of Singapore's new generation; that a child born today will live up to good health and likely to complete his/her education. This means, Singapore is doing well. As an advanced developing economy, Singapore does not require external financing to develop its public infrastructure unlike many other Asian developing economies that have much to gain from Chinese investments.
So, what does Singapore have to gain from the Belt and Road Initiative (BRI)?
Singapore's fear of being left out
A report by the LSE highlights that the Asia Pacific region has the strongest people's connectivity to China. ASEAN countries in particular have the advantage of geographic proximity to China and strong historical relations potentially attracting a larger share of investments. The largest BRI capital flow among ASEAN states include: Indonesia (US$171bn), Vietnam (US$152bn), Cambodia (US$104bn), Malaysia (US$98bn) and Singapore (US$70bn) as the figure below depicts, with the highest concentration of BRI investments in the transport and logistics sector while the energy sector ranks next. ASEAN is an important trading hub for Singapore with opportunities to leverage itself in Global Value Chains. At a time when China's BRI is expanding in South-East Asia with strong diplomatic footprint in ASEAN, Singapore seeking an active role in the project is not surprising. As Irene Chan argues, Singapore fears being left out from a globally expanding project. Singapore's strategy is therefore to draw from its key strength of being a reputable international financial hub known for its international banks, stable macro-economic conditions, stable government, and a clean business environment for investment and business dealings.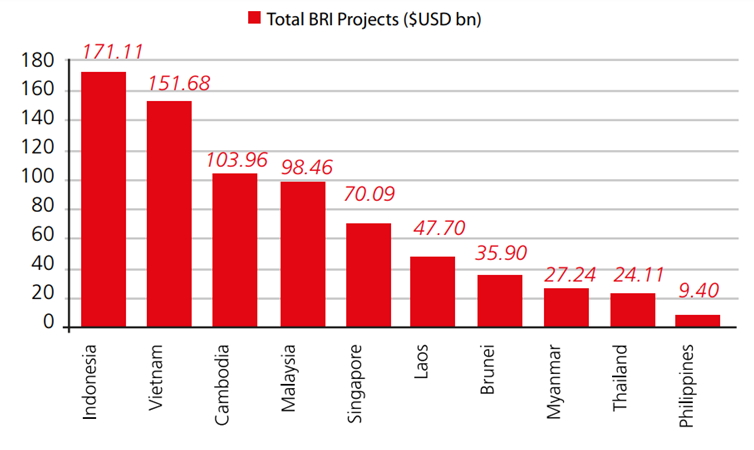 Singapore is not only a great financial city but is now the second largest Offshore Renminbi Hub after Hong-Kong.
Some of the key BRI projects include:
China Singapore (Chongqing) Demonstration Initiative on Strategic Connectivity
Chongqing Logistics Development Platform
Multi-Modal distribution and Connectivity Centre
International Land and Sea Trade Corridor
Singapore Guangxi Integrated Logistics Park
What exactly is Singapore's role?
The Chongqing Connectivity Initiative (CCI) opens an avenue for both intergovernmental cooperation and private business ventures between Singapore and China, especially in the Chongqing municipality. The key areas of focus under the project include: information and communication technology, financial services, transport, logistics and aviation. The Chongqing Logistics Development Platform (CLDP) and the Multi-Modal Distribution and Connectivity (DC) Centre are worth almost US$1.4 billion and are aimed at enhancing connectivity by developing Chongqing as an inland international logistics hub connecting with the CCI Southern Transport Corridor. It connects Western China and  ASEAN via  Chongqing and Singapore. It is possible, when Singapore's Prime Minister Lee Hsien Loong and Chinese President Xi Jinping signed the agreement, they saw the strategic significance of the Yangtze River which according to Stratfor is world's busiest inland waterway for freight transport and with nine provincial capitals along its tributaries amounting to a similar GDP as that of Mexico. Singapore as the CCI's regional hub is set to capitalize out of multimodal operations as it explores ways to digitize administration of trade, regulations and border inspection processes through Singapore's Network Trade Platform.
The BRI is ideal for Singapore to leverage itself internationally as a Smart Nation as it was invited in 2018 as the Country-of-Honour at the inaugural Smart City Expo in Chongqing. This is a very high status given to a small nation. While other countries in Asia are recipients of inward BRI flows, Singapore is investing in the BRI- in mainland China. The Pacific International Lines is now the key player in the Singapore Guangxi Integrated Logistics Park which saw an initial investment of Singapore dollar 206 million. This is a huge investment but in return, Singapore firms offer services to BRI investments in the region gaining revenue through a wide range of consultations:  risk management services, engineering and project management, international banking services, accountancy advising, advisory services for third-country project selection, dispute management and mediation, etc. Singapore firms are therefore linked with regional projects.
Today, a large number of companies based in Singapore offer legal and financial services as 35% of outbound BRI investments and 85% of inbound flows  from BRI countries to China traverse through Singapore. Driven by the fear of being left out, and realizing Singapore's true potential as an international financial city, the technologically savvy and smart nation of Singapore is reversing the BRI flow. Singapore is investing in China and expanding business ventures through its liberalized open economy proving itself to be resilient in the face of rapid globalization.
Share the post "Singapore's role in the BRI: staying relevant"
Singapore's role in the BRI: staying relevant