by Dr. Sebastien Goulard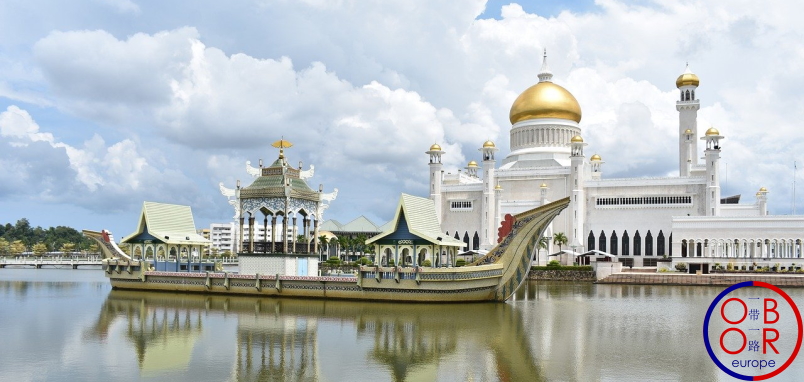 In early January 2021, Minister of Foreign Affairs and State Councilor Wang Yi made a visit to four ASEAN countries. After analysing the possible synergies between China's BRI with Myanmar's CMEC and Indonesia's Global Maritime Fulcrum strategy, we will have a look at Brunei's "Wawasan Brunei 2035" and how this national strategy can fit in the Belt and Road Initiative.
Brunei Darussalam is one of ASEAN's smallest countries, but enjoys the second highest level of development in the region (next to Singapore). Brunei's economic achievements is mainly due to its oil and gas industry.
Large gas fields were discovered in Brunei in the 1960's, and since then oil revenues have greatly benefited to the Sultanate.
However, like other oil-rich countries, Brunei is looking for diversification. The country needs to become less dependent on its gas exports. In the early 2010's, Brunei faced some economic recession due to declining oil prices. We can also note a global trend for the development of non-fossil energies. The oil-rich UAE have succeeded in becoming more than just an energy hub thanks to a very ambitious development strategy. Brunei would like to adopt a similar path, and the BRI may help the Sultanate to speed this this evolution.
Wawasan Brunei 2035
To successful implement a similar transformation, Brunei launched the Wawasan Brunei 2035 (vision Brunei 2035) in 2008. This ambitious plan aims at making Brunei rank among the top 10 nations in the world for quality of life and income per capita.
The whole strategy is defined around three mains goals that are
to improve education, and make the local manpower more qualified for future jobs. According to this strategy, Brunei people should gain more skills through new education programmes;
to offer a high quality of life to Bruneians; a specific focus regards sustainability and environment protection;
to make Brunei's economics more dynamic and create more jobs for locals.
This strategy looks at no less than 13 sectors of Brunei's economics and society: 1) education, 2) economy, 3) security, 4) institutional development, 5) local business development, 6) infrastructure development, 7) social security, 8) environment, 9) health, 10) religion, 11) land use, 12) infrastructure and info-communication technology, and 13) manpower planning.
China and Brunei
China and Brunei enjoy good relations. China is one of Brunei's top trading partners and Chinese companies have invested in the modernization of Brunei's infrastructure. For instance, since 2018, Muara port, Brunei's largest port, has been operated by a joint-venture company formed by some Chinese and Bruneian investors, and has become a flagship project project under the framework of the Brunei-Guangxi Economic Corridor.
Established in 2014, this corridor aims at better connecting Southern province of Guangxi to the Sultanate, and facilitating Chinese investment in Brunei.
Brunei and the Belt and Road Initiative
Brunei is a strong supporter of the BRI. During his official visit to Beijing in 2019,  Sultan Haji Hassanal Bolkiah met with President Xi Jinping, and the two leaders agreed to align the Belt and Road Initiative with "Wawasan Brunei 2035" to boost regional connectivity. This China-Brunei alignment was mentioned again in early January, when Wang Yi visited Brunei.
With the Belt and Road Initiative, Brunei will not only develop new ties with China, but will also increase its relations with other countries that have joined the BRI.
China's BRI will help Brunei to accelerate its transition to a diversified economy, thanks to new investments conducted in the country and the increase of trade and exchanges between China and Brunei. The service industry and the financial sectors in Brunei may attract Chinese companies to operate in the Sultanate.
The objectives set by Brunei in its "Wawasan Brunei 2035" are not different from the ones of China's BRI, as both countries are looking for facilitating development by promoting innovation.
Share the post "China's BRI in some ASEAN countries (3/4):Wawasan Brunei 2035"
China's BRI in some ASEAN countries (3/4):Wawasan Brunei 2035